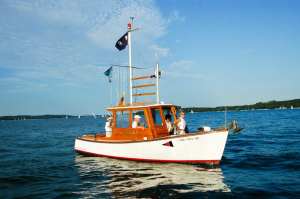 Founded in 1874, the Lake Geneva Yacht Club is one of the oldest and most internationally renowned of the ILYA Clubs and is the site of numerous international and National Sailing competitions.  Additionally, the LGYC is the home of Olympic Medalist and World Champion sailboat racers.
Throughout the summer months (May through October), the LGYC sponsors weekly sailboat races for each of its one-design fleets:
Racing takes place on Tuesday, Wednesday, Thursday, and Friday evenings as well as Saturday and Sunday mornings. X Boats, 420's and Optimists race on weekdays. Members can compete in any of the 11 one-design boats raced at the club.  Additionally, the LGYC hosts numerous regattas that attract sailors from all over the country.
The LGYC also maintains full kitchen and dining facilities that offers lunch and dinner service throughout the sailing season as well as numerous social events that are scheduled throughout the year allowing members to take full advantage of all the Lake Geneva Yacht Club has to offer.